Fly to Switzerland
St.Gallen-Altenrhein, Lugano & Bern Airport - your clever alternatives for stress-free flights into Switzerland.
St.Gallen-Altenrhein Airport, Bern Airport and Lugano Airport are clever alternatives for smooth and stress-free flights into Switzerland. Together they form the brand "Fly To Switzerland".
Offer your customers all benefits and advantages of leading Swiss regional airports: no slot restrictions, modern facilities with Schengen and non-Schengen immigration facilities, a familiar welcoming atmosphere, dedicated staff members and short distances that allow a start-up in less than five minutes.
The Airport St.Gallen-Altenrhein is located in Eastern Switzerland directly at the Lake of Constance.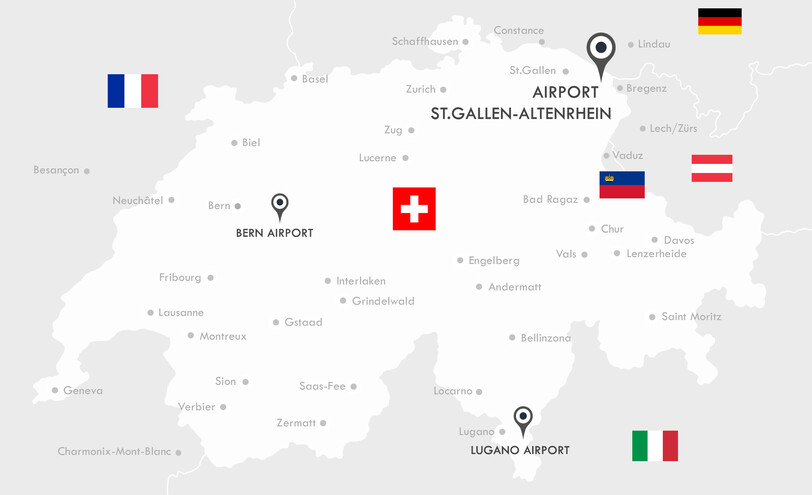 | | | |
| --- | --- | --- |
| Distances from St.Gallen-Altenrhein | Kilometre | Driving time in hours |
| Zürich (CH) | 104 | 1.10 |
| Bad Ragaz (CH) | 68 | 0.45 |
| Vaduz (LI) | 59 | 0.30 |
| Bregenz (AT) | 23 | 0.30 |
| Lech/Zürs (AT) | 98 | 1.08 |
| St. Anton (AT) | 98 | 1.07 |
| Lenzerheide (CH) | 111 | 1.20 |
| Davos (CH) | 116 | 1.30 |
| St. Moritz (CH) | 171 | 2.10 |
| Konstanz (DE) | 50 | 1.00 |
More information about «Fly to Switzerland»:
People´s Airport St.Gallen-Altenrhein
Flughafenstrasse 11
9423 Altenrhein
Switzerland
LSZR / ACH

P: +41 71 858 51 65
TWR 135.430 / ATIS 123.780 / HDL 131.505